Friday, February 23, 2007
Ballet Success!
Yay! Hannah had a much better day at ballet today. Hopefully this is the start of a new trend. Although I did threaten her before she went in. I told her that if she misbehaved that we would have to leave and that we wouldn't be going to dinner with Mimi afterwards. So she behaved. And hopefully it will continue to work. I think if we do end up having to leave, it will only take one time doing it. After ballet we went to Casa Ole...yes today! And since Hannah was so good in ballet and at dinner, she got to play in the sand box afterwards.
The other day Maw Maw was giving Hannah a bath. I had bought popsicles at the store a day or so before that. These popsicles are smaller than the regular ones and can be eaten in a couple of bites. I thought these would be better than the regular sized popsicles...you know less sugar and junk. Anyway, Hannah wanted one while she took her bath so I brought her and Maw Maw both one. Hannah was busy playing with her's and eating it pretty slowly while Maw Maw just ate her's in a few bites. When Hannah looked up and saw that Maw Maw's was gone she said, "wow, your's is all don! You don't mess around!" She got that from her father!!!
I haven't posted many pictures lately...just haven't taken many...or really probably any in a couple of weeks. So maybe tomorrow I'll break out the camera and try to get a few up here in the next day or so.
| posted by shawnthegreat at 12:42 AM
Thursday, February 22, 2007
Getting Married...
...on the beach?
Here
is an online store where you can get all kinds of invitations and wedding accessories for your special day at the beach. Aside from just
tropical themed wedding invitations
they also have all kinds of wedding accessories, invitations and cards. Everything from seashells to flip flops for the bride and groom are available on the website. All at great prices.
The Invitation Depot also has
graduation invitations and cards
. They have
adorable birth announcements
. I wish I had known about this site when I was looking for birth announcements for Hannah. I finally ended up just doing the regular picture ones from the portrait studio. They turned out cute, but this place has so many that are even cuter.
So whatever your invitation or card need is,
The Invitation Depot
has it. Go on over and check them out.
Labels: sponsored post
| posted by shawnthegreat at 2:45 PM
Wednesday, February 21, 2007
Today's Outing...
This morning we had to get up and drive downtown for a doctors appointment. Fun, fun in rush hour traffic. I had to be there at 8:30 this morning so we left at about 7:15. We now know that we should have left about 25 minutes earlier as I was late! So while I went in to see the doctor, Joey drove around with Hannah because the little lamb slept until 10:30! All went well at the doctor...no news really to report, everything looks good. No news is good news right? I say yes. They did check my ICD and said that I had had a few unsustained episodes. These are o.k. It's when they are sustained that we (and when I say we...I really mean I)have trouble. Trouble as in I'm about to get the tar shocked out of me! One of the episodes I recall having. I had just finished singing a solo at church and right at the end of my song...music still playing...I felt that "feeling" and thought OH LORD, PLEASE DON'T LET IT SHOCK ME RIGHT HERE IN FRONT OF THE WHOLE CHURCH! I hadn't really thought much about it since because thankfully I didn't get shocked, but when he told me the date I thought...I remember that! Someday I'll have to write about the stories I've heard about people getting shocked. I really don't appreciate people telling me these stories, but invariably when people hear that I have a defibrillator, they feel the need to share their uncle's friend's great great nephew's stepdad's story of when they got shocked in the shower!! But that is another post entirely
So when Hannah finally woke up in the car, Joey took her to ride the train over by the zoo. Then when I finished at the doctors office, I was jealous that they had riden the train together without me...so we rode it again! So I'm kind of a brat...deal with it! And don't you know Hannah was just so perturbed about having to go again!!! Actually it was her daddy that wasn't so thrilled about riding the train a second time. Hannah couldn't have been happier! Then after that we decided that we would celebrate my good doctor's report with Chinese food!!! Hahaha! I had to make up for the last few days of panic and eating well because I knew I had an appointment coming up! And I had to reward myself somehow and somehow that just seemed the most appropriate at the time! Plus I had fasted for blood work (after getting up early) and it was almost 1 PM! The temptation was just more than I could handle. O.k. so I'll quit trying to justify my bad behavior today and just say...oh well, tomorrow I'll be back on the wagon food wise...as much as that is possible for me!
Anyway, Hannah had fun on the train twice today!
| posted by shawnthegreat at 3:17 PM
It's A Party!
You are hereby officially invited to attend the Ultimate Blog Party at 5 minutes for mom! It all starts March 2, 2007 and ends with a grand prize drawing on March 9, 2007. They will be giving away tons of prizes, you can hang out with blogging friends plus meet some new ones and it's a great way to get your blog noticed. So consider yourself invited and click on over to
5 Minutes For Mom
for more details.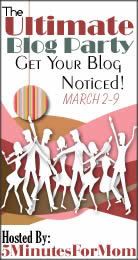 Labels: 5 Minutes For Mom
| posted by shawnthegreat at 3:09 PM
Friday, February 16, 2007
Ballet Day...
Hannah had ballet today and she was a little stinker! I finally told her that she wouldn't be able to go next week. I hate that because I've already paid her tuition for it. But, I can't just let her act like that and think that she can get away with it. I thought about telling her on Monday that it was Thursday and that I'm sorry, but she can't go...and then actually let her go on the real Thursday. I don't know. All I know is that when her teacher has to pick her up and put her on her green tape three times that I have to do something dramatic so that maybe next time she'll do as her teacher asks her to. She LOVES going to ballet so I'm thinking that I might get her attention if she thinks she has to miss a class...but I'm not sure that a week is not too long to expect a three year old to remember that she didn't behave in ballet. Maybe I'll just let her go and tell her that if she acts like that again, we will be leaving the class for that day and follow through if she acts up. Who knows what's right to do? Any suggestions???
Earlier today I went to the dentist...what a pain. For the rest of the afternoon, I felt as if my upper lip was hanging down over my chin. Even tonight when we went to eat, I had trouble (not that I couldn't use a break from eating after yesterday!). Every time I took a drink I had to hold my upper lip down over the straw or I felt like water was going to pour out of my mouth. Fun times, yes, fun times! I was worried for a little while that I had had a reaction to the anesthesia and that my upper lip would be paralyzed forever. Fortunately I can finally feel my face again. Hannah will be happy that our bubble blowing days are not over!
| posted by shawnthegreat at 12:45 AM
Thursday, February 15, 2007
Once Again...Kudos For PayPerPost!
I know some of you may be sick of seeing me write about PayPerPost, but this is really something to look into if you are a blogger. If you're not...it would probably even be worth starting a blog, just so you can get in on this. It is so easy to
make money blogging
with PayPerPost. I can't believe that I've gotten $65 so far with this and I am due to be paid $106 more in the next 30 days plus $15 for this post alone. That's $186 and I have only written 21 posts for them. And if you have a high traffic site, they have opportunities for up to $1000 for a single post. Can you imagine? Even if you have a site that doesn't get that much traffic, you still have opportunities that pay decent money for writing a hundred words or so. This is so easy. Especially if you are already a blogger. You love to write anyway, why not get paid for actually doing something that you enjoy doing. It makes perfect sense to me. So, why are you still sitting there? Why haven't you
signed up
and started making money? Quick...here's the link again...
PayPerPost
...you'll start making money and it's just a
click
away! And if you aren't interested in advertising on your site, you can make money by having people review your post with their new affiliate program. All you have to do is sign up for an account, start writing about what you already write about and copy and paste the button (like the one below) to the bottom of your post. Once your readers review your blog they get paid, but so do you for having them review your post. Interested? Click one of the buttons below or one of the links that are already in this post!! It's so easy!
Labels: advertisement
| posted by shawnthegreat at 9:46 AM
Happy Valentine's Day!
I know the date on this is going to show Feb. 15th, but that's o.k. 'cause I haven't gone to bed yet...so it's still Valentine's Day to me!
Joey and I took Hannah to breakfast at the donut shop because she wanted donut holes for her "Balentine's Day" breakfast. We sat and ate our donuts, donut holes and kolaches at Best Donuts...and yes they do have the BEST donuts! Especially when they are hot on Sunday morning!!! Uhmmm! My mouth is watering just thinking about them...anyway, I digress! After that we came home and were lazy (well, Hannah and I were...Joey had work to do)!! We gave Hannah a Dorothy (from Wizard of Oz) barbie and she played with it most of the day! Hannah and I watched t.v. and I started cleaning her play room. I had to send her out of there several times because she kept pulling out the things I was putting away. She wasn't at all interested in putting things away and I finally gave up on getting her to help. I thought she had gone back into our room to watch t.v. when I came out with a bag of stuffed animals and things to take to Salvation Army. "Hey, why'd you put dose toys in dat bag," Hannah asked. I said, "uh, uhm, well...I thought since you didn't play with these things anymore we could take them to some other children that don't have any toys to play with!" BIG MISTAKE! Long story short...we still have those toys and stuffed animals that were in that bag! Hannah isn't at all interested in giving less fortunate children toys to play with...especially if they happen to be coming out of her playroom!! Maybe someday she'll be more charitable. After church tonight, Joey and I had a Valentine's date at a Hibachi Steak place where I proceeded to stuff myself so that I still feel sick from it. I really love that place, but the people next to us ordered something and turns out it was slices of raw meat and they were supposed to eat it raw!! Bleh! So now here I am at the computer trying to sit up for a while so that I don't have indigestion all night.
Wow, I just read back through this post and it sounds like all we did was eat and laze around today, but I did work on Hannah's playroom and we went to church too!
| posted by shawnthegreat at 12:54 AM
Blogsvertise
Hey Blogging Friends...
I found a new blog advertising site that will help in the purchase of my new computer that I'm planning on. It's called
Blogsvertise
. So now I can start earning even more money by posting on my blog. All I have to do is write a post about a company or website and then sit back and get paid for blogging. Pretty sweet deal to find on Valentine's Day! So if you have a blog and want to make some extra cash,
check them out
and see if it's something that you'd be interested in. If you don't have a blog and want to make some extra cash...start a blog and start making money!
Labels: advertisement, Blogsvertise, Making Money
| posted by shawnthegreat at 12:43 AM
Wednesday, February 14, 2007
Date A Millionare?
Just in time for Valentine's Day! I think I've officially seen it all now.
Millionaire Singles
are looking for dates! You would think that Millionares would not have a problem with this, but apparently there is a need for such a website. The site has thousands of profile that single people can sift through to find "their single millionare". I guess if I were going to do an online dating service (which I'm not as I am very happily married)...well this would be the one to go with. You can search their data base by location, age, eye color...you can even search by employment status. And I thought all millionares were employed! Who knew?
This post is sponsored by
Date a Millionare.
Labels: advertisement
| posted by shawnthegreat at 11:19 PM
Seasame Street Live!
We went and Hannah had a blast. She was mesmorized the entire time. Joey asked her if she wanted a bite of his $12 hotdog (isn't that insane?) and it was like he didn't exist. She was totally zoned out and enthralled in the show. She fell asleep on the way there and when we got there we said, "Hannah, wake up. We're here and we're gonna see Big Bird and Elmo!" Her eyes popped open and she was wide awake. Next time we go we are probably going to try and get better seats. The characters danced with some of the kids that were down on the floor close to the stage and I think she would have really liked that. I asked her at one point in the show if she liked it and was having fun. She responded, "uhhuh!" With out batting an eye or even turning in my direction to answer. So here are a few more pictures...of her totally into the show.
| posted by shawnthegreat at 9:50 PM
Saturday, February 10, 2007
Calling Cards
Once again my father in law is headed out of the country on business. Wishing there was an easier way to get a hold of him while he was away we began looking into international calling cards. He has a black berryl phone, but half the time it doesn't work well. If you can get a hold of him at all on it, you can't hear hime or he can hear you. Very annoying! And the cost of calling a land line overseas is outrageous. But...this company Pingo has great
Australia calling card rates
and other countries as well. They are some of the better rates that we've found. So...we will be getting all of our calling cards from there in the future. The great thing is that my father in law can use them as well. He can call back to the states with them. It works great on both ends. And...it's not just for international calling cards either, they offer all kinds of calling card products. International calls is just what we'll use them for mostly.
This post is sponsored by
Pingo
| posted by shawnthegreat at 11:24 PM
Friday, February 09, 2007
Goin' To See Big Bird!
I am ultra excited! We are taking Hannah to see Seasame Street tonight! And I can't wait. I haven't reminded her that we are going and it's tonight yet, but I'm sure when I do, she'll be asking until we leave..."is it time yet??" I'm not sure if they will let me take the camera into the place, but I'm going to try! Which reminds me...I need to charge the battery! When I told Joey that I wanted to take Hannah to see Seasame Street, I think he was a bit disgusted! I guess I can't expect a 30 year old man to be really that excited about spending the evening with Big Bird and Elmo, but he has warmed up to the idea...knowing that Hannah will probably have a great time! So...watch for an update on how the evening went...with photos of course (if they'll let me)!!
Labels: Outings
| posted by shawnthegreat at 10:51 AM
Review My Post!!
O.k. so I've been doing this
PayPerPost
thing for a few months and have to say that I really love it! I am going to save all the money I make from this and get a computa!!! That's right, I plan on makin' that much moo-lah! Buy.com has macbook pros and they take pay pal!!! As Hannah would say..."Rock on, dudes!" Then I can blog all the more about Hannah and all of the wonderful things she does!! PayPerPost has a new thing now too where I can get paid multiple times for each post. For each post I write I will put a code at the bottom of each post that will show up as a button that you click on and thus proceed to review my post...yep you get to review my post! When you do, you get paid!!! Rock on!!! And...I get paid again!!! Double rock on!!! It is also a great way that I can
build traffic
to the blog. I am super excited about it because it just means that I'll be getting that new computa soona!!! So go on, get hoppin'...what are you waiting for...review this post, here's the little button. All you gotta do is click it and write a review for this post. Get paid moo-lah and then we'll both be hap hap a rooskie!!!
Labels: PayPerPost
| posted by shawnthegreat at 10:18 AM
Wednesday, February 07, 2007
The Last Few Days
We've been pretty busy. Leigh Anne had her birthday and so many people came to visit her. The day before yesterday we took Hannah to the zoo again and as always, she loved it. Before we told her where we were going she kept saying that she wanted to go to Toys R Us, but when she heard we were going to the zoo instead she was all the more happy about that. This time her favorite animal was the giraffe. Usually she loves the elephants which she still enjoyed, just liked the giraffes more this time.
Yesterday we went to eat lunch with Billy and Amy at Chick-fil-a and there was another little boy playing in the play area. Hannah always manages to befriend at least one other child that we've never met before in the play area and yesterday was no exception. I asked Hannah if she knew what her new friend's name was and he told me that he knew what his name was. I said, "well, what is his name?' He said, "my name's fifofer!" "Christopher," I asked. "Yes, fifofer!" It wasn't just the way he pronounced his name that was adorable. The inflection in his voice when he said it was equally entertaining. I wish I could somehow duplicate exactly how he said it here...impossible with words!!
Last night Joey was poking around in the pantry trying to find a late night snack when he and Hannah decided beef jerky was the munchie of choice. As they were walking back to our room to watch t.v. with their beef jerky, I asked Hannah what she had. She said, "beef turkey!" And that is what she called it the rest of the night.
I've taken a few pictures over the last few days and couldn't decide which to put on here so I did a slide show. Enjoy!
Photo Sharing - Upload Video - Video Sharing - Share Photos
| posted by shawnthegreat at 10:04 AM
Thursday, February 01, 2007
Company and Happy Birthday, Leigh Anne!
Hannah's 3rd cousin came in this evening and even though they really came to see Aunt Leigh Anne for her birthday...which is today...Hannah really thinks that Avery came to see her. They played so hard this evening that when they went to get in bed, I think they both went to sleep pretty fast! It's quiet in there anyway! Not typical for Hannah!!! I love when Hannah has other children to play with. With her being the only child in a home with 4 adults and not going to preschool or Mother's Day Out, she doesn't have that opportunity as often as I wish she did. She sees other children at church, but that's usually only once or twice a week for an hour or so. Anyway...I ramble! They had so much fun tonight. They laughed, ran, played, laughed some more and hid from each other. Hannah woke up this morning asking what time Avery was going to be here. And usually she would jump at the chance to go somewhere with just her daddy, not tonight...she was staying here to wait for Avery! Agh! I guess I spoke too soon...here comes Hannah now!! Better try and get her back to bed!!!
Happy 35th Birthday, Leigh Anne! Wow, we're getting old...but you will always be older!!!
Hannah wants to type something too now!! Here goes...
bbv4hvcyy5uy343yf3yfh vnn nnt3 to rjb ur o ut o u u694 u3uoiaoi4ouaieuroiabc fy7gd6g7g67676gg8w6g76fg676g767ygy7y5w7yywuwwfyyrkkkkkkdfh kdddregk ka i52uyi3UYIF UFYFHFHYU4YIYRRUYYIYFIIIIIIIIIIIIHH IFFH488Q77FQ5483QF738Q7F5FF777787F
Try spell check on that one!!!
| posted by shawnthegreat at 1:12 AM
Soap Opera Site
I found a website that gives daily updates on
Soap Opera News
. Now I'm not really one to watch soaps and I was about to pass this site up and move on when I started reading about a show that first aired in September. This particular show caught my attention and I was intriged. Anyway, I had never heard of the show, but I was able to read up about the show and though I'm not a soap fan, I kinda wish I had caught this one because it looked really interesting. If you do watch soaps or have one that you like, but can't watch regularly this site is worth looking at. You can keep up to date on all the happenings on your fav show(s). You can even subscribe and become a member and you can see what is coming up on the next episode!!! The only thing I would change about the site is that some of the links are to sites that are under construction. They should wait until a site is up and running before linking to it.
This post is sponsored by
Soapsdotcom
.
Labels: advertisement
| posted by shawnthegreat at 12:51 AM